Alumni Spotlights
Alumni Spotlights
Michael Rocca, Valedictorian, Class of 2011 takes a break from studies at The University of Maryland School of Medicine to reflect on how his love of community, the men who led him, and football keep him at the top of the class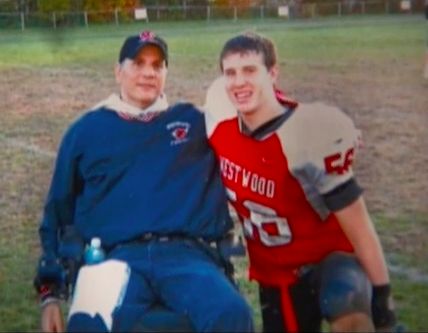 Q: What attracted you to pursuing a career in medicine?



A: To put it simply, I pursued a career in medicine to have a positive impact on other people and be able to help them at their most dire moments. I am not someone who thinks "I was born to be a doctor" but I feel my life experiences and interests have led me to my pathway in medicine. Through the constant evolution of my interests in medicine and biological sciences I became in love with the medical field. Plus, medicine has such a team mentality that I felt my experience in sports, especially football, would help me make an immediate impact and find my niche on a medical team.

Q: You've taken your love of the field and intend to make a future in sports medicine, why?

A: I feel sports medicine is the perfect combination of my passions: sports and medicine. Having the ability to treat patients with sports injuries and getting them back to playing full strength or making a positive change to their lifestyle is the reason I am considering sports medicine.
Mike Rocca alongside his position coach and
inspiration to this day, Coach John Zisa.
Q: Why did you chose Johns Hopkins upon graduating Westwood Regional?
A: I'd be lying to you if I said it was an easy decision at first. But I can tell you it was one of the best choices of my life. My older brother had gone to Hopkins to play football and had a ton of success. Therefore, I knew how successful and tight-knit the program was at Hopkins, which has a lot of parallels to the program at Westwood.
Q: What were your other college options?

A: I was recruited by the Ivy and Patriot League schools, but in the end the best opportunity was for me to play football at Johns Hopkins because the academics were second to none and the football was and is incredible. The combination of success—we won 4 conference titles with an overall record of 41-5—and an outstanding education at Hopkins is something I will always cherish.
Q: How did you balance your studies and football?



A: The secret to balancing school and football is being fiercely disciplined in your study and work schedules. At Hopkins, the coaches preach how important school work is and they give you an ample about of time for your studies. That being said, when it was football time for me, it was football time, 1000%. The few hours of practice I had each day were the best times of my day and something I always looked forward to.

Q: You began your Cardinals football career with Coach Straub and finished with Coach Campanile -- can you compare and contrast what you took from each of them?
A:
I am grateful to every coach I have had from Westwood Wolverines through Johns Hopkins. In their own way, each has enabled me to get the most out of myself, believe in myself, and make the most of my potential. Coach Straub is a great coach and an even better person who had tremendous success at Westwood. The lessons he instilled in us each day made us better players and, more importantly, better young men. It was tough on me and our team when he left Westwood after my sophomore year. With that said, there was a lot excitement around the Westwood program when Coach Vito was hired, and we had a strong and close relationship, him and I, from Day #1. He motivated me to reach my potential, and instilled a certain work ethic and mentality in me that I leverage every day of my life.

Coach Vito was the type of guy you wanted to play for, and you knew he would always have you back and you were in it together. He's someone that will always be an important figure in my life and I cannot thank him enough for all he has done for me. I think the way the community embraced him and how he embraced it speaks volumes to not only the coach but the person he is. I also spent a lot of high school football practices with Coach Z and Coach O'Melia, two great guys I have a special bond with as well. I can't put into words what Coach Z has meant and will always mean to me. He gets you to believe in yourself, work through any adversity, and dominate on the football field while having fun doing it. Me and Z could sit there and talk football X's and O's or about life for hours on end – we just had, and will always have, an unbreakable bond. Coach O'Melia was always the constant representation to us of what a tough football player from Westwood High School was and he's someone that every player he coached respects and loves.
Q: You worked with some of the coaches you mentioned at Coach Vito's Future Cardinals camps, what was that like and what did you take from that experience?

A: I loved working the camps. It gave me the opportunity to give back to the community that helped shape me into who I am. It was awesome teaching the sport and what the sport can do for you to the kids. Hanging with the coaches and former players in that setting was a great learning experience as well and I got to interact with Coach Hard, another great man and coach, at those camps before he became HC.

Q: Back to your playing days, can you compare and contrast your high school and college football experiences?

A: I am forever grateful for everything Westwood football has done for me. There was nothing like walking across the bridge at Ketler arm-in-arm with my brothers, the kids I grew up with, to represent the community we all took pride in and who loved us and showed up in mass for every game. I wouldn't trade that experience for the world. I was fortunate enough to go on and have great success in college at Hopkins as a 4 year contributor and 3 year starter on the defensive line. I was a part of a team at Hopkins that won 4 conference titles, while only losing 1 regular season game in 4 years. And, we made the D3 playoffs all 4 years. There are many parallels between my experiences playing football in high school and in college; but in high school, I was able to represent my community and that is and always will be very special to me.

Q: The Cardinals lost, yet another, close and controversial game to Mahwah at Met Life this past season. What do you remember about that game 34-29 loss at Ketler in 2010? What life lessons did you take from that?

A: I remember how tight that game was, obviously coming down to the wire, and I remember how hard we fought. I can remember every part of those last few plays down on the goal line at the A field, and what an awful feeling I had leaving the field that day. Losing the way we did was tough, but I also think it made us a lot closer as a team. It taught me—as cliché as it sounds —that it truly is not over until it's over and despite your best efforts sometimes it isn't your day. I went on to lose two games in college in similar fashion; and I could draw on my high school experience on how to overcome those situations. My junior year of college we lost a playoff game on a Hail Mary to end the season and, in my senior year, we lost a playoff game in the last minute to end my playing career. After all these horrible losses, the sun rose the next day and these experiences have helped me grow and become more mentally tough in the face of adversity on and off the field.

Q: Finally, your father was a football guy whose sons are football guys. With your education, experiences, and what you've read, will you let your son (s) play football?

A: Absolutely, without a doubt. There is so much that this game has given me from relationships to life lessons. This game has done so much for me and helped shaped me into the person I am today. I could go on and on, but when it comes down to it, I believe football is the best way learn about: physical and mental toughness, team work, overcoming adversity, challenging yourself to reach your potential, and learn how to take coaching. Injuries occur in all walks and the benefits far outweigh the risks.
Michael Rocca Academic & Athletic Accomplishments
Westwood Regional
Academic: Valedictorian, 4.0+ GPA
Football: Captain, 1st team all-league
Johns Hopkins University
Academic: BA Public Health Studies, Pre-med, 3.8 GPA
Football: All-Conference defensive lineman
2014 DIII Academic All-American Football Team
2014 Academic All District
2014 D3football.com 3rd Team All-South